Can you sleep in the Sahara Desert?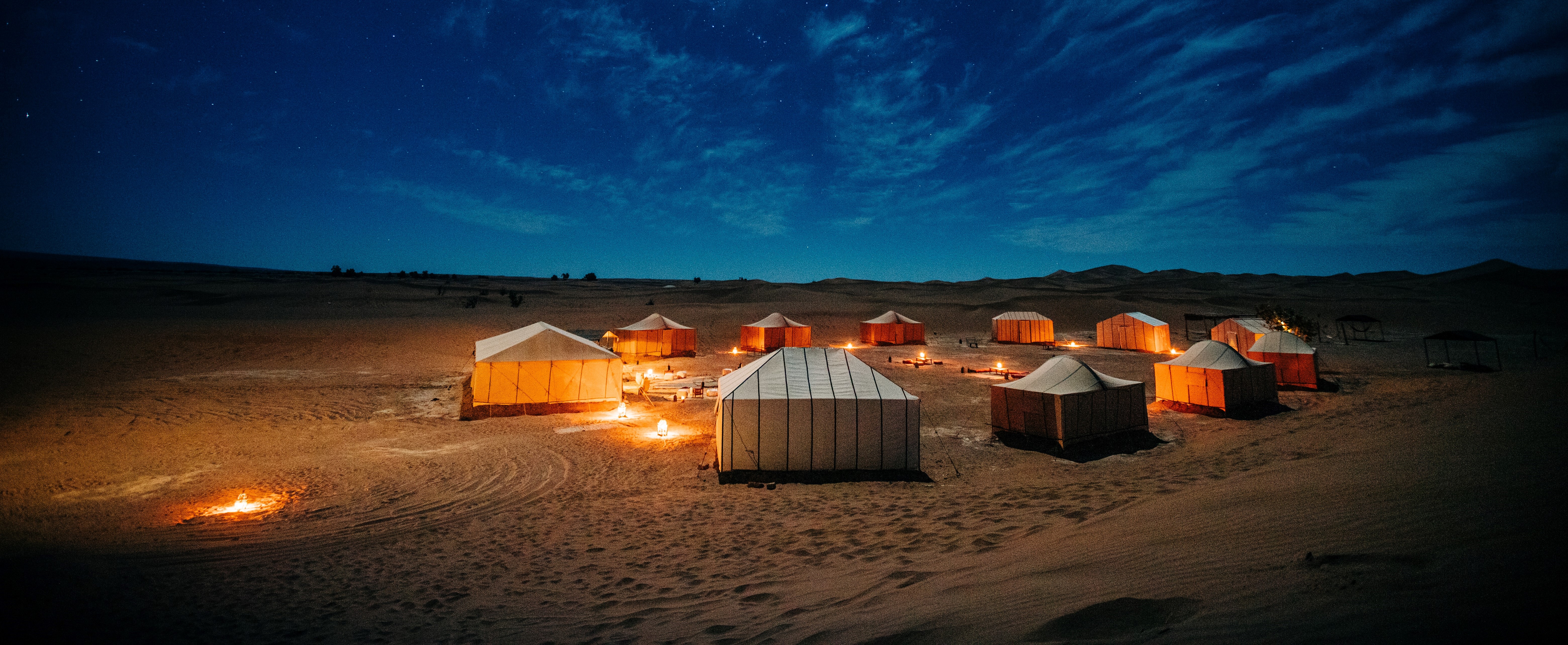 When you think of Morocco, you naturally also think of the Sahara. This vast desert is located in the south of Morocco. One of the gates to this desert is the city of Merzouga. Merzouga itself is not very special; you certainly don't have to stay here. However, this is the place from where you visit the Erg Chebbi. Moreover, a little more in the middle of Morocco is another desert, the Erg Chegaga desert.
The Erg Chegaga desert is so beautiful. The sand dunes are less high here (especially in the beginning). In addition, you cannot just drive to the Erg Chegaga desert. The last two hours you exchange your normal car for a 4X4 (four-wheel drive). This means that the Erg Chegaga desert is more expensive to visit. So if you are looking for a luxury experience where you feel completely alone, we recommend the Erg Chegaga desert for a true glamping in the desert!
The Erg Chebbi desert is a popular area of ​​the Sahara, bordering the city of Merzouga. Erg Chebbi is easy to reach, after a 10-minute camel ride, or 5 minutes by 4×4, you are surrounded by meter-high sand dunes. The dunes are quite high here, which creates beautiful pictures, and there are many different desert camps so it's less private. Keep in mind that you will always see other visitors in the Erg Chebbi desert because it's a tourist attraction area.
So which desert do you choose? When this is your first experience with the desert, it doesn't matter which of the two you choose. Both will be fun!
After arriving, you are always welcome with a mint tea. Now get ready for a camel trek through the alluring rosy-hued dunes you will found yourself ready to spend the night at a traditional Berber camp in the Moroccan Sahara desert.
Dinner is usually set at a wooden table, lit by candles and small wooden chairs.
First, a round of snacks such as nuts and popcorn. Then came several baskets of steaming hot bread with a choice of savory olive oils and fresh olives. Next was a Moroccan salad consisting of separate piles of assorted vegetables.
The main course will be comprised of large skewers of meat along with one of the famous dishes in all of Morocco; a stewed Berber chicken recipe. And if weren't already full enough, dinner is finished off with a pile of fruit or sweets. (Keep in mind that the dishes may change and this is just what a typical meal look like in the desert).
Then you are invited over to the fire pit. Where you will be able to spread out comfortably on chairs and long cushions.
Now the show began. The fire roared and the Berbers pounded away on their drums and sang in unison. Song after song in a circle, enjoying the music and taking in the desert night atmosphere until you call it a night and eventually its time for bed.
Imagine lying alone on the desert, beneath a night sky obliterated with hundreds of thousands of fiery twinkling stars, feeling the cool pre-morning breeze brush against your face as you tuck yourself further into your blankets. You're surrounded by sleeping bodies but virtually alone with no sound but the occasional grumble of a distant camel.
At six o'clock the alarm goes off, time to watch the sunrise. Get dressed quickly and walk outside. The soft sand is cool on our feet. Walk drowsily into the dunes, going up requires a lot of effort, not going down, that is a matter of sliding. You sometimes sink into the sand up to your knee. It is starting to get a bit light, and don't forget to take some pictures of the dunes. After defying the loose sand, and run out of breath, a bright red sphere that rises above the dark sand dunes. The sun has never been so big and it's great to see! There is nobody around you, just enjoy in silence. Slowly the sun rises further and it gets warmer quickly.
It's worth noting that many of the camps close during summer months (July and August) as the temperatures climb above 50°C yet remain open during winter months when daytime temperatures are comfortable, but nights can be cold (approximately 10°C). April, May, September and October are great months.
Even on the hottest days, once the sun sets, the temperature drops considerably. Be prepared to layer up and a sunhat is necessary as are strong UV sunglasses for the sunset or sunrise trek to and from the camp. Close-toed shoes are best for the camel trek while long pants are certainly advisable as well.
Given the distance required to travel from both Marrakech, staying two nights in the desert is desirable – one night in camp and a second night in a lodge at the edge of the dunes. The scenery is mesmerizing with the light changing throughout the day, making it wondrous all day long. Activities such as sand boarding, camel-trekking and picnics in the palm groves can often be arranged so there is no need to race back to the city. We also have a selections of a very breathtaking properties for rental in Marrakech, taking the time to enjoy this gem is definitely a must, take a look at our marrakech villas to rent or apartments for rent in Marrakech for long term rental on https://www.marrakechsunset.com/long-term-rentals/ or our holiday rental for short terms stays: https://www.marrakechsunset.com/holiday-rentals/
Finally A trip to Morocco would not be complete without a trip to the Sahara Desert. Riding off in to the dunes as the sun sets, spending the night under the starry African sky, drumming around the fire following an impressive Berber dinner, camping in a traditional Berber tent or watching the sun rise over the mountainous sand dunes. It's an unforgettable experience.