Is Marrakech worth visiting ?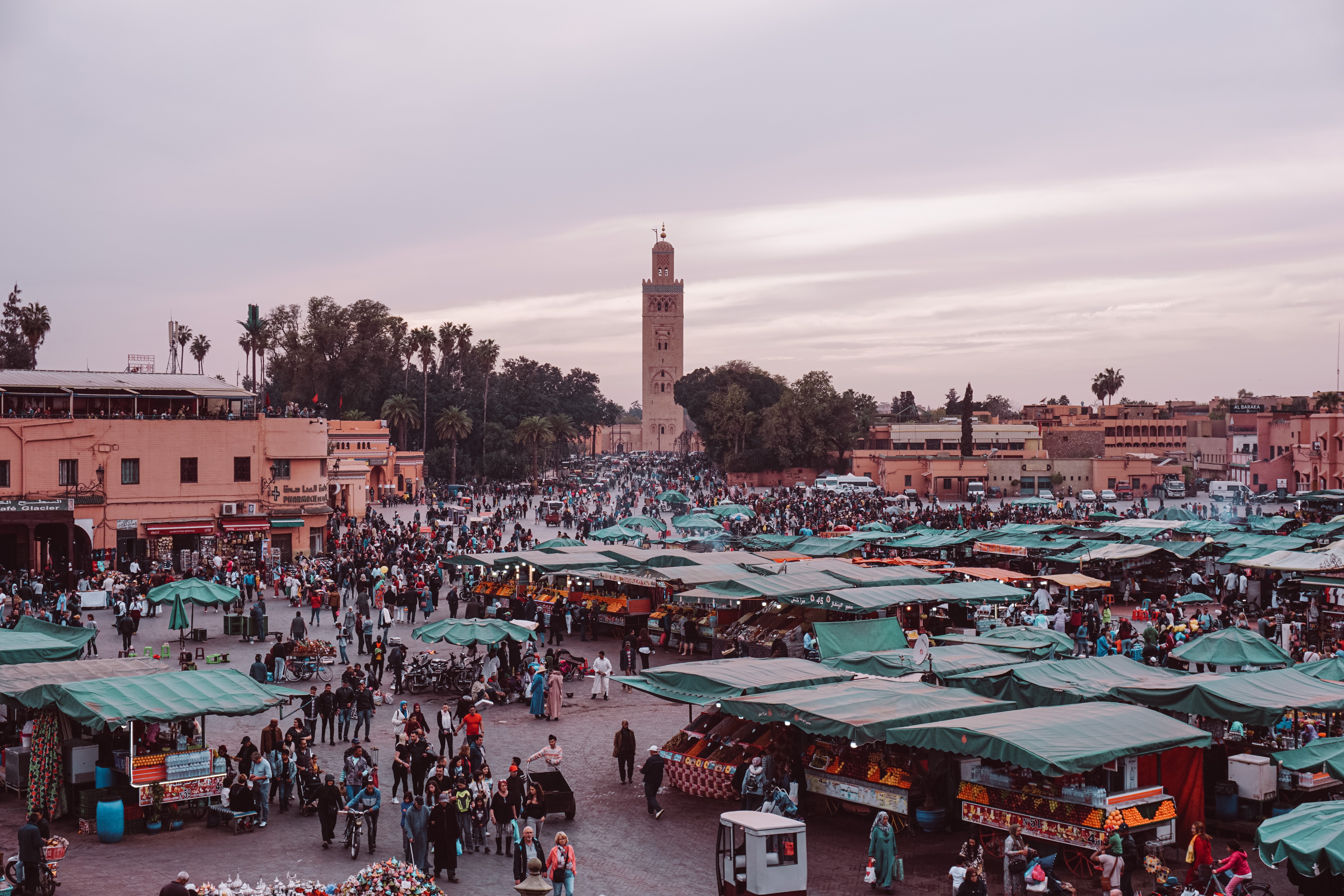 Visiting Marrakech should absolutely be on your bucket list, it's a home to an impressive number of masterpieces of architecture and art. With its medina listed a UNESCO Heritage Site, the Red City continues to make tourists and worldwide travellers dream. You cannot be disappointed by all the beauty you will find in the different places.
1.The people:
Moroccans definitely have the hospitality thing down, it is second to none! Very kind, sweet, generous and warm people. Everywhere you go you're welcomed with mint tea and some biscuits.
2.The Beautiful Architecture
Architecture in Morocco is like nowhere else you have been to, it is stunning! If anything, Marrakech is worth visiting just to feast your eyes on the beautiful sights! The intricate details, the tile arrangements, the history, it is so uniquely beautiful and guys, this is Africa!
3. The different landscapes.
Marrakech is surrounded by deserts and mountains, making it the perfect city to discover.
The Agafay Desert will dazzle you with its desert expanse as far as the eye can see, its particular light and its breathtaking view of the Atlas Mountains. It is moreover a great playground to ride a quad or a buggy
The Atlas Mountains This mythical mountain range is home to many authentic villages where Berber culture is still well present. You can go hiking on one or more days, climb Mount Toubkal, the highest peak in North Africa (4 167m).
The Palmgrove a few kilometers from the red city is a lush palm grove surrounded by desert, the perfect place for a mountain bike ride or a camel ride. This area is also known for its luxury marrakech villas, between the diversity of choices and different budgets your will definitely find your villa in marrakech with pool for sale and there is the possibility to rent a villa in Marrakech as well.
4. The shopping
Marrakech can't be compared to any other city when it comes to shopping and you will never visit anywhere, yes ANYWHERE that has the shopping like Marrakech! It is AMAZING! You'll find anything to suit your tastes, from lamps, rugs, ceramic plates, to leather bags. The different colors and smells, it's truly an experience.
5. The food
When we think about Morocco, we obviously think of its rich and varied cuisine : tajine, couscous, tanjia, harira, pastilla, briouates, msemens, pastries or mint tea… The only evocation of these flavors gives us the mouth watering…
Morocco is also the country of street food. Marrakesh has even been ranked among the world's top destinations for street food by CNN!
6. For its luxurious services
Marrakech is also known as the city of luxury, thanks to its famous palaces, 5-star restaurants, luxury spas and hammams and charming riads (traditional houses) in the medina. Amongst others, there is marrakech villas to rent or apartments for rent in Marrakech check out long term rental properties on : https://www.marrakechsunset.com/long-term-rentals/ or our holiday rental for short terms stays: https://www.marrakechsunset.com/holiday-rentals/ .
On the Dunes & Desert side, you will find also luxury experiences among others:
A night in the desert after a quad day, in an unusual luxury desert camp located in an exceptional environment.
A Royal Balloon Flight, with breakfast catered and champagne in the basket, while you can admire the red city and the Atlas Mountains from the sky.
A private trek "Real Morocco", in places forgotten by tourists, with a special lunch you will remember for a long time
7. Peaceful gardens
If the hustle and bustle of Marrakesh becomes too much, several peaceful parks and gardens offer the perfect respite. Stroll through the olive trees in the Menara Gardens and peer into the waters of the large reflecting pool, see a lush assortment of plants and flowers from around the world at the acclaimed Jardin Majorelle, and watch the fountains as you connect to the free Wi-Fi in Cyber Park. The UNESCO-listed Agdal Gardens have a royal heritage and make up one of the oldest parks in Marrakesh. Le Jardin secret medina hidden gem with it's unique greenery.
8. For its hot and dry climate, and its sun all year round
In Marrakech, the climate is subtropical semi-desert, with mild winters and very hot summers. The city enjoys 300 days of sunshine a year, and rainfall is scarce. The city can be visited all year round
Winter is mild, but in the evening temperatures can drop below 5°C. This is the best time to admire the snowy peaks of the Atlas in the background, an unforgettable view!
The summer is very hot indeed, but the hotels are equipped with air conditioning, you can enjoy the swimming pools and many activities are perfect for the summer : the buggy + camel combo, a mountain bike day, the ascent of Toubkal Mount or M'Goun Mount, or see the sunrise from a hot air balloon. In short, there is always something to do in Marrakech, even with the heat
The best moments to visit Marrakech are spring and fall, as it is still warm without being stuffy, and rainfall is low.
9. Soothing hammams
A hammam is a traditional Moroccan steam bath. It is a place where locals go to bathe, socialize, and cleanse. While there are many luxury hammams now open to the public, largely catering to tourists, still each hotel and riad will offer their own hammam experience, ranging from the basic, to versions involving soaking, showering and possibly even rose petals. And apart from the feeling of being all brand new afterwards, You don't need to break the bank to experience the hammams in Marrakech. Many of our favorite properties are a part of private resorts, which makes the hammam and spa very accessible.