The Best Spa and Wellness Hotels in Marrakech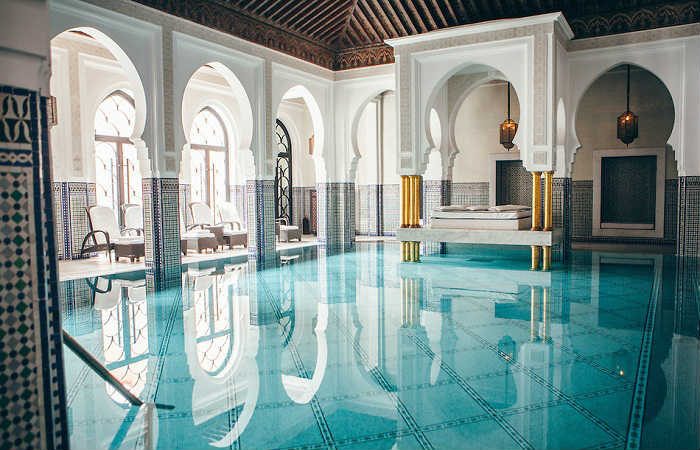 Skin-softening hammams, nourishing argan oil massages, and delicate, rose-scented facials. Yep, the pampering scene in Marrakech is world-class. But the finest hotel spas in the city have more than stellar treatments, they also have a gorgeous atmosphere transporting you far from the bustle of the medina. And if you are looking for a riad for sale Marrakech, apartments for sale in Marrakech, villas to rent marrakech or even Marrakech villas for sale, checkout our website: https://www.marrakechsunset.com/ our agency offers a wide selection of branded properties inside some of these resorts.
Four Seasons Resort Marrakech
Both an antioxidant and anti-inflammatory aid, precious argan oil is one of Morocco's most coveted natural beauty products. It's also a star ingredient at the Four Seasons spa, where you can be smothered in a blend of aromatic oils while getting a muscle-soothing deep tissue massage. The Four Seasons doesn't do things by halves, and this glam spa, with outdoor seating area and atmospheric tiling, also has Zen-style stretching sessions, tennis tutelage and yoga classes on tap.
Address: 1 Av. de la Ménara, Marrakech
Phone: 05243-59200
Fairmont Royal Palm
Dressed in creamy hues with plenty of natural light spilling in, the centrepiece of the Fairmont Royal Palm spa is a lengthy turquoise pool. But while it's essential to take the plunge at least once during your stay, you'd be remiss not to enjoy some of the locally inspired treatments on offer, too. Get smothered in musk clay with a traditional ghassoul (also known as rhassoul) wrap, indulge in a muscle-melting argan oil massage or get a scrub in the private hammam.
Address: Km 12 Route D'Amizmiz, 40000
Phone: +212 5 2448 7800
Royal Mansour Marrakech
Say hello to Marrakech's temple to spa-ing. The most exclusive hotel in the city – built by the Moroccan king – has a wowza spa to match, set over three levels in an orange blossom-scented citrus garden. The ethereal structure, a vision in white latticework, has every possible pampering experience, from a hairdresser to an elaborate mani-pedi studio with a professional podiatrist. Book in for a splurgey day of treatments, broken up by a light lunch at the airy restaurant, La Table du Spa.
Address: Rue Abou Abbas El Sebti، 40000
Phone: 052980-8080
Amanjena
The wellness-focused Aman brand takes spa-ing seriously, and its luxurious Marrakech outpost is no exception. Surrounded by fountains and reflective pools, the utterly Moroccan setting meets a blend of feel-good treatments both local (hammam, argan oil hair treatment) and global (yoga sessions, deep tissue massage). Sign up for the three-day wellness retreat to reap the full benefit of their expert therapists, with detoxing sessions, posture correction and an uplifting facial as part of the package.
Address: Route de Ouarzazate km 12, 40000
Phone: 05243-99000
Selman Marrakech
Set outside of the maze-like centre of Marrakech, at the foot of the Atlas Mountains, the tranquil grounds of this hotel make you breathe a bit deeper. And the spa drops your shoulders even further, thanks to intensive treatments from premium wellness brand Chenot. We're not just talking same-old massages: rather, personalised nutritional programmes, detoxifying treatments and more. You'll be feeling like a million bucks long after your hour in the treatment room.
Address: Km5 Route d'Amizmiz، Marrakesh 40160
Phone: 05244-59600
La Sultana
This stylish hideaway in the maze-like Marrakech medina is focused on providing authentic Moroccan experiences, from hands-on cookery tours to guided shopping in the kaleidoscopic souks. And when it comes to the spa, that means hammam. Brilliantly atmospheric – framed by pink pillars, glowing with candles and traditional lanterns – the space invites you to linger post-scrub. Sip mint tea next to a tranquil turquoise pool, then sign up for a 50-minute massage to further tenderise your limbs.
Address: 403 Rue de La Kasbah, 63-67 rue Boutouille, Marrakesh 40000
Phone: 05243-88008
Madarin Oriental Marrakech
With spa suites spilling out into peaceful, private gardens – and yoga rooms flooded with natural light – the Mandarin Oriental spa is somewhere you'll be happy to spend a full afternoon. Unique treatments are designed to tackle your overall well-being, from the Digital Wellness Escape – targeting stress in your head, eyes, neck and shoulders – to the Calm Mind massage. Of course, there's proper Moroccan flair, too. As well as a classic hammam, you can sign up for calorie-burning belly-dancing classes in the gym.
Address: Route du Golf Royal, Marrakesh 40000
Phone: 05242-98888
La Mamounia Marrakech
One of the most spectacular hotels in Marrakech has – you guessed it – one of the most spectacular spas. Moody lighting, slick marble and traditional tadelakt plasterwork lends a luxurious, dramatic feel to a space that's singularly Moroccan. A hushed atmosphere lets you fully unwind, even while swimming through the mirror-like pool, surrounded by archways and lanterns. If you're looking for a magical treatment, the time-reversing facials from lauded Swiss brand Valmont are not to be missed.
Address: Avenue Bab Jdid، Marrakesh 40040
Phone: 05243-88600
Essaadi Marrakech Resort
How many spas in the world have been built around a centuries-old eucalyptus tree? Well, here's at least one. The thick old branches of the ancient tree can be taken in through large windows lining the pool, just one element of this 3,000sqm (32,300sqft) spa. You'll want to dedicate a full day to enjoying its delights, taking in everything from the 1,000sqm (11,000sqft) solarium – the place to get your essential dose of vitamin-D – to the premium treatments designed by Dior.
Address: Avenue Quadissia, 40000, 40000
Phone: 05243-37400