What is Moroccan architecture called?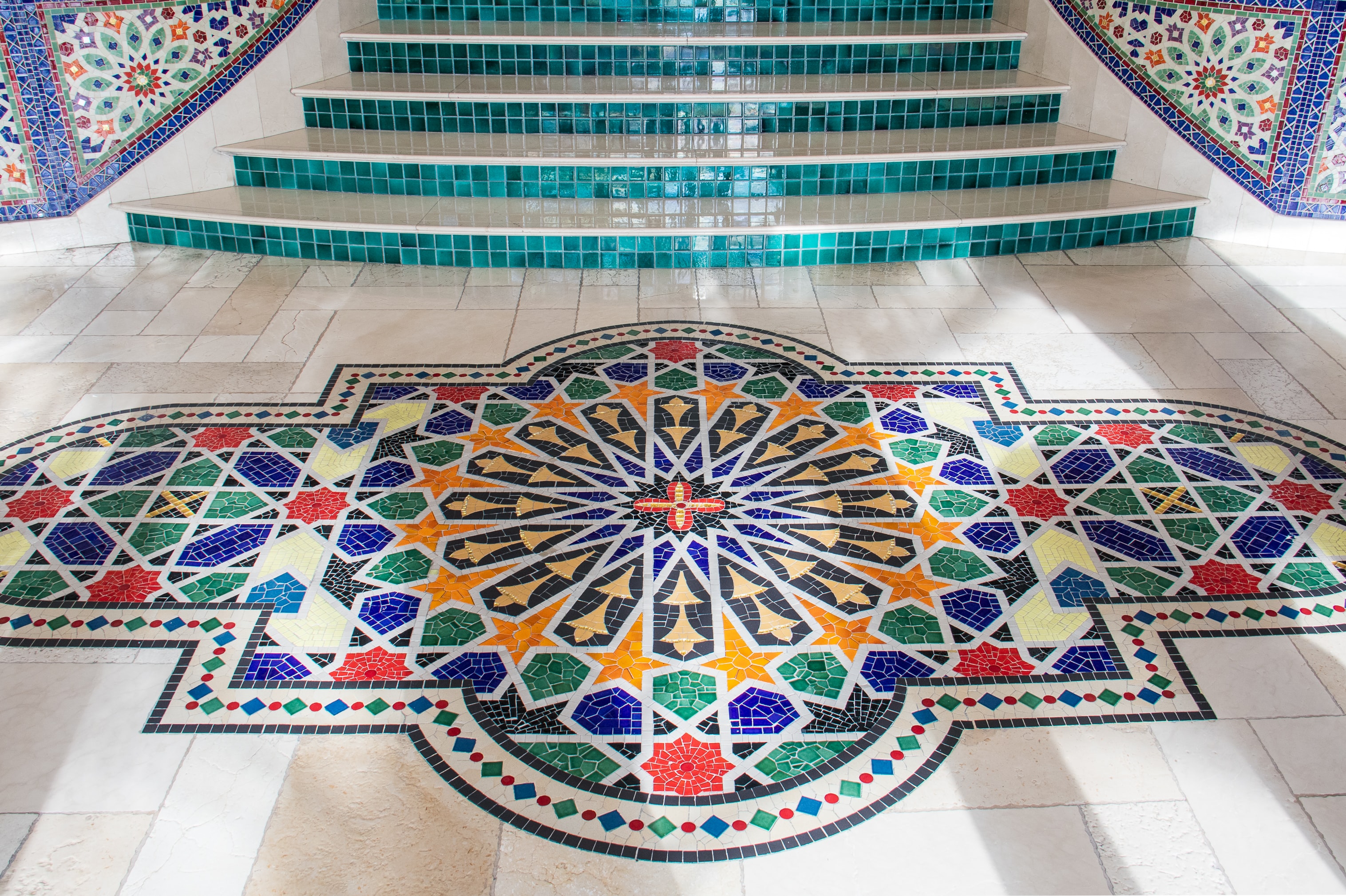 Morocco is a beautifully diverse country in art, culture, and natural landscapes. The sun beats down on soil rich with red clay and everything looks washed out. But within this initially disorienting and even dreary picture is a wealth of inspiration, color, and culture. The city and its surrounding country have influenced fashion and interior design for the past fifty years.
Marrakech is called "the hidden city" for a reason. On a superficial level, it doesn't map to conventional standards of beauty. But within the greater city of unraveling monochrome lies a hidden city, just through that door, just around that corner, a secret garden of awe-inspiring beauty, drenching color, and entrancing pattern.
Most things are old and crumbling and walled away with miles of the same red brick of the ground. But get into any courtyard, behind any nondescript door, and you're plunged into an oasis.
Both inside and outside the dusky-pink walls that surround the old city, contemporary interpretations of traditional Moorish (and regional) design – drawing upon the geometric patterns, heavenly arches and bold colors that have informed local architecture here for centuries – are to be found in increasing numbers.
From the ancient, winding souks of the medina to the super-chic shops of Guéliz, Marrakech is a city of stark contrasts. Donkeys carry loads of fresh mint, while Range Rovers idle outside luxury hotels. If there's one constant, though, it's the city's distinct sense of craftsmanship—courtesy of leather tanners, woodworkers, weavers, and other artisans.
Today's interior design trends emphasize color, patterns, geometric forms, interesting textures, and worldly nonorthodox eclecticism. All of these things have long been visible in Marrakech and the nation in which it's rooted: Morocco. The country's textile and architectural art is like a hub from which all of these design trends are the spokes to the rim of the wheel of today's taste.
The sky's the limit with Moroccan patterns or geometric, colorful patterns inspired by them. You can add a touch, like with throw pillows or a carpet, or you can layer pattern on pattern, set color against color. These colors are revivifying. Using patterns and along these lines, your space becomes an oasis in which to recharge.
Morocco's richly patterned past has been appropriated by today's designers and it stands to keep going strong into the future. And why not? When you enter the door at home, you should feel happy, relieved. A calm and collected energy should easily move through you. We're discovering how colors and patterns can contribute to that sense of well-being; it's something the Imazighen and other Moroccans struck upon long ago.
Patterns enhance the everyday. Something like this Kohler Marrakesh design on Camber undermount sink (from Hudson Valley boutique hotel Glenmere Mansion) turns a banal task like washing one's hands into an opportunity to meditate and be nourished by beauty.
In recent years, many people visiting the city have been inspired to take a new direction in their life and start a business adventure.
Caitlin and Samuel Dowe-Sandes are American expats with amazing style. They decided to leave their hectic lives in LA for a year retreat in Marrakech. Two months in, they started a company, Popham Design, making cement tile inspired by local patterns and color-uses, simplifying them to more geometric forms. The designs are really modern and chic but still seem to suit the environment. They also decided to make a home there. Elle Decor did a story on them and this home. Their exquisite living room where they used of their own tile and delivering on that go-to word one uses when discussing Marrakech, "oasis."

Ella Jones, founder of east London homeware store A New Tribe, has witnessed much of this new wave. Having "fallen in love with the carpets and the craft culture" while on holiday, she now runs a store offering designs by independent brands, and tries to visit the souks two to three times in a normal year to source homewares and vintage pieces, including rugs. "The majority of what I sell is one-of-a-kind," she says. "I love how you emerge from a three-and-a-half-hour flight from London and find yourself in another world."
For those who want to summon a little Moroccan magic at home, Design & That's co-founder and interior architect Emma Shone-Sanders points to Bauwerk's lime paint in "Marrakesh", a chalky pink shade conjuring the look of faded tadelakt plaster, "It's a natural lime-wash finish that is more muted than bright and poppy," she says. Her final words of wisdom are to keep it simple by adding a few accessories that enliven a room. "You don't have to be overtly colorful — it can simply be about bringing in some texture with a rug or contrasting a statement vase with a lime-washed wall."
One thing is sure wherever you step into Marrakech, and you enter this city of luxury marrakech villas, the one of kind riads in the Medina, you've likely seen the ceramic jigsaw puzzle of shapes on you floor or bathroom walls, elaborate geometric patterns and ornamental Islamic calligraphy of Quranic verses that make you feel far away from the world you've known.
In addition, Marrakech is filled with exquisite architectural gems that tell the intriguing story of a country that has continuously welcomed and absorbed different cultures, lifestyles and beautiful which makes you Experience Moroccan by simply walking.
With so many options, locating the perfect piece can be an enjoyable challenge. One possibility is to try to echo simple patterns, so that lines chime off one another.
Lastly, for any information or details do not hesitate to contact our talented team of professional Interior designers: https://www.marrakechsunset.com/interior-design-marrakech/ that design and supervised the most upscale properties in Marrakech. We do this with agility, tenacity, and pride in our work. With more than 10 years in the industry, a committed team that gives your project the attention you deserve, working closely with you every step of the way.