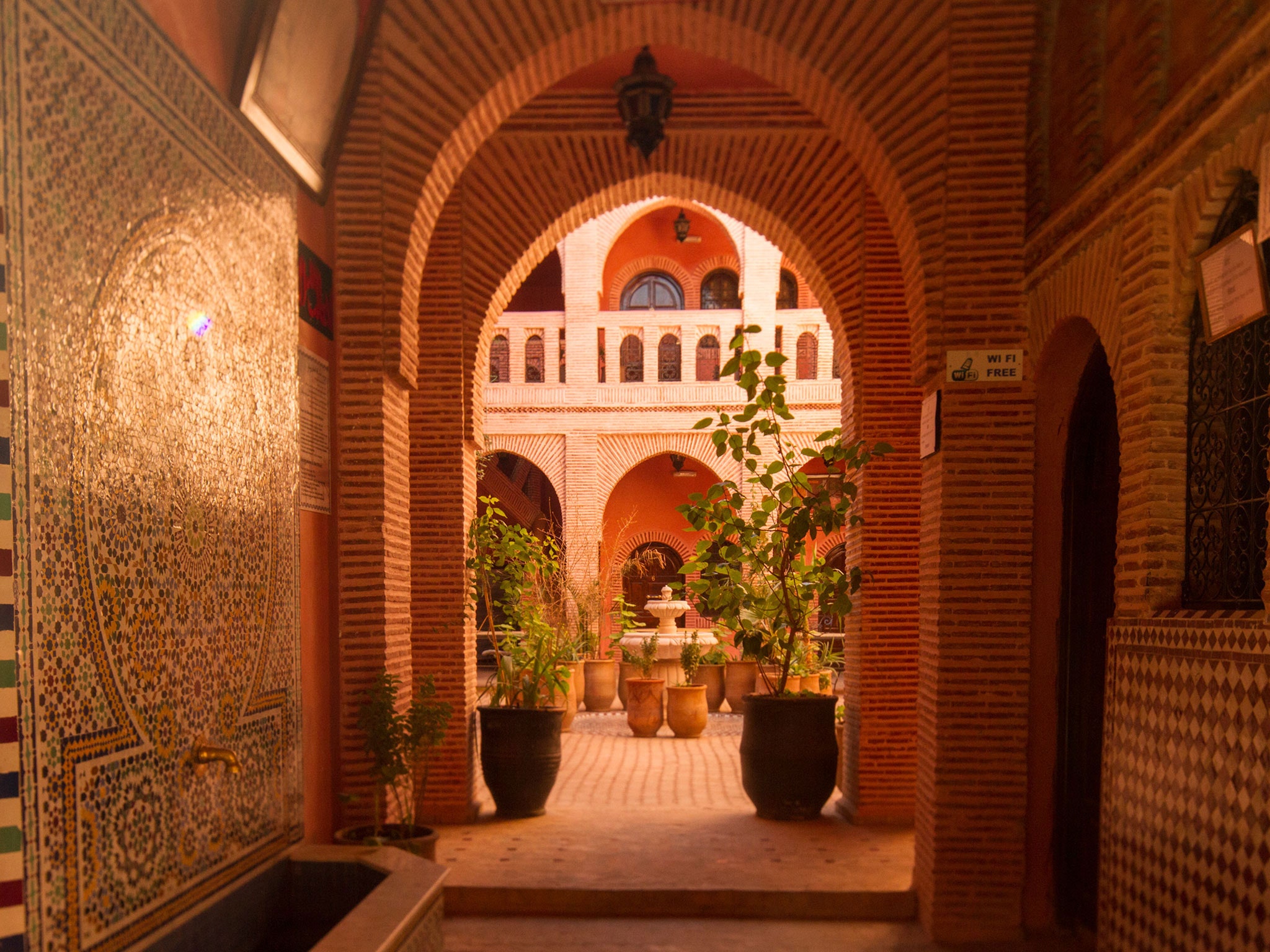 A modern country with a wealth of contemporary bars, restaurants and nightspots, stepping inside the medinas of Morocco transports to a different world. Encompassed by towering walls, they are filled with narrow streets, tiny alleyways, market places and historical mosques. The purpose of each medina was to keep out invading armies, which is the reason why each of the four imperial cities of Morocco has its own. Each medina has its own unique story to tell; lose yourself in their history and beauty.
What is a medina?
A medina is the old part of a town or city, found in many countries of North Africa, not just Morocco. It is typically walled, and contains narrow streets, fountains, palaces and mosques. Many medinas are car-free as there is not enough space in the alleyways for cars to pass. The word "medina" means city or town in modern-day Arabic.
The medina is the old core of a city in Morocco, usually from the middle ages. It is surrounded by a wall and you can only enter through the old city gates, called Bab. The houses are pretty much all traditional style without windows and either whitewashed or painted in a colour specific to that city. For example, the medina in Marrakech is orange-red, in Chefchaouen blue and in Essaouira white.
There are seldomly proper roads, mostly it's more or less narrow streets that you share with motorbikes, donkeys, juice sellers and of course lots of people walking. Just like in old European cities, the alleys don't follow any pattern. Sometimes it feels like walking through an elaborate maze.
Medina of Marrakesh :
Founded in 1070–72 by the Almoravids, Marrakesh remained a political, economic and cultural center for a long period. Its influence was felt throughout the western Muslim world, from North Africa to Andalusia. It has several impressive monuments dating from that period: the Koutoubia Mosque, the Kasbah, the battlements, monumental doors, gardens, etc. Later architectural jewels include the Badii Palace, the Ben Youssef Madrasa, the Saadian Tombs, several great residences and Place Jamaâ El Fna, a veritable open-air theatre. Our agency offers a variety of properties for sale and rental in the heart of this jewel, from marrakech riad for sale, to riads to rent marrakech checkout our website for more details : https://www.marrakechsunset.com/
Where to Shop:
Now a UNESCO World Heritage Site for many visitors, the main attraction of the medina is its labyrinthine souks, or traditional traders' markets. Dark, crowded, and filled with the exotic smells of spices and leather, they ring with the calls of rival vendors and sprawl like a living thing in every direction. Overwhelming at first, they soon transform into a place of magic that can be safely navigated on foot. Most tourists start their exploration on the main thoroughfare, Souk Semmarine. Here, tourist emporiums sell antiques, jewelry, and carpets, and can be good places to shop for souvenirs if your time is limited.
However, you'll find better prices and a more authentic atmosphere in the themed souks that branch off in every direction:
Souk el Attarine: Home to brightly colored towers of spices, rare perfumes, and shining metallic goods that range from silver teapots to fabulous copper-and-stained-glass lanterns.
Souk Smata: Your go-to for embroidered Moroccan slippers.
Souk des Bijoutiers: This market specializes in fine Moroccan jewelry.
Souk ek Kebir: A souk famous for its hand-crafted leather products.
Souk Chouari: Head here to see artisan carpenters using the same techniques their ancestors have employed for centuries.
Souk Haddadine: Similar to Souk Chouari, this souk is home to artisan blacksmiths.
Souk des Teinturiers: The "Dyer's Souk" is the most photogenic, as bolts of freshly dyed wool and fabric festoon the stalls in shades of fuchsia, cobalt, and saffron.
Our Top Tips when visiting a medina:
Exploring the medina is generally safe. However, keep the following tips in mind for a hassle-free experience:
-Pickpockets take advantage of the medina's crowded conditions, so make sure to carry your valuables in a concealed money belt. Be discreet with expensive equipment and leave your flashier jewelry at home.
-Be aware of con artists, especially in Djemma el Fna. Some of the most common scams include attempting to exchange counterfeit currency, and giving you "gifts" that you will be expected to pay for later.
-It's easy to get lost in the medina, and while this can be part of the fun, it's a good idea to carry a map and/or the address of your riad with you. If you're afraid of losing your way, consider hiring the services of a licensed tour guide.
-Haggling is expected in the medina and vendors can be quite vigorous. Only ask the cost of an item if you're genuinely interested in buying it, then start by halving the initial asking price. When attempting to find an agreeable middle ground, make sure to be polite and fair, but don't feel that you have to purchase anything for a price you're not happy with.
-Make sure to carry small bills so that you can pay the agreed price without having to ask for change.
-If you enter a carpet shop and vendors spend a lot of time rolling out their wares for your perusal, don't feel as though you have to make a purchase. It is customary to give the assistants a tip for their effort, however.
-Exploring the medina involves a lot of walking, so be sure to wear comfortable shoes and clothing.
-Modest dress is essential for women who want to explore the medina's religious sites. It's advisable anyway if you want to avoid uncomfortable stares and catcalls.
-If you take photographs of the street performers in Djemma el Fna, expect to tip the subjects. Be careful not to support irresponsible acts, including captive Barbary macaques. These rare primates are now endangered in the wild due to the demand for them as pets and performers.