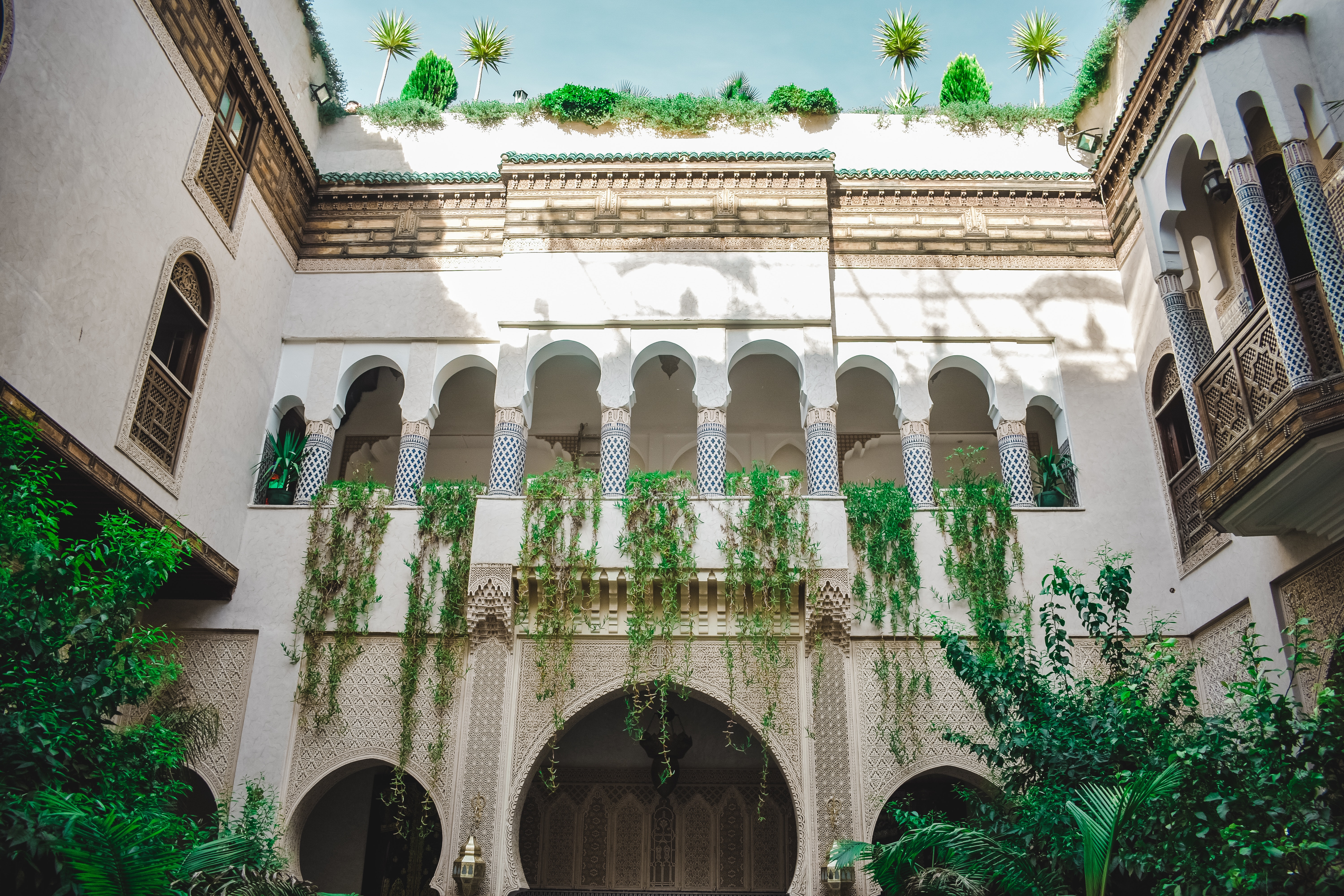 A visit to Marrakech is a magical experience. The city offers plenty of exoticism and romance, with a thriving old center housing bustling markets, craft businesses, restaurants and more. It's a tourist destination that manages to combine the best of Moroccan culture and tradition but with a chilled out vibe and modern amenities too.
While there are a variety of chain hotels and luxury resorts available throughout the country, there is also marrakech villas to rent or apartments for rent in Marrakech check out our long term rental properties on : https://www.marrakechsunset.com/long-term-rentals/ or our holiday rental: https://www.marrakechsunset.com/holiday-rentals/
However each visitor should strongly consider spending at least a few nights in a Moroccan riad they are famous for providing an authentic visitor experience in this enchanting city.
But what exactly is a riad? Traditionally, a riad (which means garden in Arabic) was a house built for the privacy of a multi-generational family in Morocco. Riads were built tall but narrow, centered around a courtyard or atrium with rooms facing inward. From the outside Marrakech riads looks like a blank brick or mud clay wall, a veritable fortress with a heavy door and no outer windows. From the inside, riads are an architectural dream, a magical place with an emphasis on balconies, colorful tiles and indoor gardens. Lemon or orange trees often grew in the center, and the women of the house did most of their socializing here.
Today, the riads are located all over Morocco but they are the highlight of a visit to Marrakesh, Fes or Essaouria, where many of the ancient buildings have been renovated and updated with modern essentials and touches for overnight guests. Running water and plumbing are standard, but so are plunge pools, rooftop gardens, restaurants, spas and bubbling fountains. The price range for a riad falls anywhere on the scale of budget to super splurge. Some riads are so luxurious and over the top, they're a worth a visit in themselves.
A few things to note about riads, finding your riad might be an adventure unto itself, part of the appeal is trying to locate your riad – you may not realize you're right in front of it. Having been designed as private, intimate spaces, there's often no outward sign other than a humble wooden door on a narrow stone street. Riads are so calm, peaceful, and beautiful that it's easy to spend an entire day or two resting on outdoor cushions and sipping mint tea. Make sure you're not isolating yourself from the rest of the city.
After a long and exciting day exploring Marrakesh, there is no better feeling than lounging on a riad rooftop as the suns sets over the fortress city, while listening to the call to prayer from a local mosque reverberate off the ancient city walls. You'll truly feel like you have your own inner sanctum.
Riads aren't large establishments and many have less than 10 rooms – but each one is unique. What makes them so special is that each room is individually decorated, incorporating intricate Moroccan architecture and beautiful tilework to bring out the room's beauty and personality.
The size, décor and level of luxury of guest rooms ranges from budget-friendly to top end accommodation. Rooms on the upper floors often have semi-private balconies and are quieter than those on the ground floor.
The ground floor of a riad will generally have two to three rooms, which open to the garden. These rooms are mostly narrow and long in shape with curtains or doors. However, you may find one of these rooms without any barriers and with an extended area where visitors can sit back and relax.
Upper levels of the riad have more such rooms, which are adorned with beautiful curtains and doors. Some of these rooms also have inner windows that are decorated with ornamental metalwork and shutters. All of the rooms in the upper levels lead to their respective inner balconies. The rooms also have very high ceilings, which give you a sense of spaciousness.
Floors tend to be tiled rather than carpeted, with bathrooms displaying vibrant Moroccan tile work. Expect hanging lanterns, colorful textiles, hand-woven carpets and carved wood as popular style elements.
The main door of the riad is a large one and heavily decorated. However, you may also find more simplistic designs of these doors, but all of them will possess a traditional feeling. Once you enter through the door, you will walk through a long passageway and reach the central courtyard or garden.
None of the rooms on the ground level has any windows, and the ones in the upper level are high rise and very small. The interior of the riads has beautiful artwork on the walls, and some even are decorated with ornamental plasters or tiles.
A dar is a smaller version of a riad, without the interior garden. It will have rooms on up to three sides of the property – the fourth side will typically be a neighbouring riad or dar's external wall. There is still an interior courtyard in the middle, just a bit smaller, without trees planted in the soil. If you remember that riad is arabic for garden, then dar is arabic for house.
It's really just a technicality – nowadays not many riads that operate as guest house accommodation actually have a garden or trees growing in the centre. Most have instead opted to put a small swimming pool, and the remaining area will be paved. Also check out our Marrakech riads for sale : https://www.marrakechsunset.com/riad-for-sale-marrakech/
As veritable retreats from the noise and activity of the souks outside, Marrakech riads are luxurious capsules where you can escape into peace and comfort. You can see why many are choosing to spend their nights in a riad instead of a more conventional hotel. Marrakech Riad residences provide an authentic glimpse into historic Moroccan living and are certainly unlike any other. And, when you're ready for excitement, step through the doors and right back into the bustle.