What is a traditional Moroccan hammam?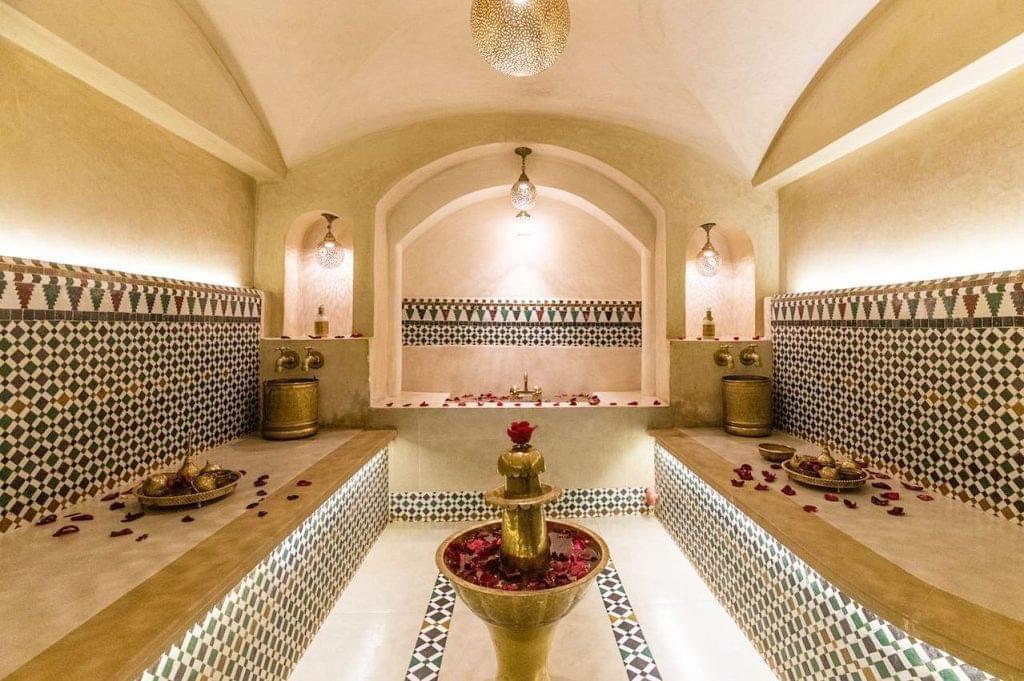 For anyone coming to Morocco, visiting a traditional Moroccan hammam and experiencing the wide range of benefits is undoubtedly on their bucket list. While public bathhouses might be associated with Turkish and Roman cultures, the traditional Moroccan hammam is a unique experience.
Moroccan hammams take their inspiration from the first original bathhouses created by the Roman empire more than 2000 years ago, built to increase public hygiene. Roman's rule over North Africa left its pronounced influence on Moroccan culture, seen in the architecture of Roman ruins still remaining across the country. Rome's thumbprint in modern Morocco is most noticeable in the Moroccan hammam.
The ancient bathhouse rapidly grew in Islamic Moroccan culture with a few modifications that made it unique and different from others. Traditionally, Moroccan hammams are located near mosques to facilitate the purification of body and soul before prayers rituals.
The buildings are usually large. Most Moroccan hammams consist of three or four long rooms. These baths, however, don't have pools like Turkish baths. Instead, bathers participate in the rituals in these large, tiled steam rooms Each room has a different temperature. Often they have vaulted, dome ceilings.
The many benefits of a weekly hammam session are well known by eastern community:
-Physical and emotional detox. Reduce stress, anxiety and allow deep relaxation.
-Beautifying the body and face. Take away dead skin from your body, unclog pores while eliminating toxins from the skin and
-Fight acne. Regulate skin oil secretions to prevent acne and help heal scars and reduce redness.
-Skin nourishing and rehydration. Provides essential vitamins and minerals.
-Anti-aging. Allow your inner organs to breathe. Helps toning, firming the skin while improving elasticity.
-Decrease muscle tension. It sooth muscle pain and rheumatism.
-Better sleep. Helps rejuvenate your body while sleeping.
-Boost the immune system. Activate the blood circulation.
-Body and mind connection. Have more energy and feel more balance.
-Feel beautiful. Feeling fresh and revitalized.
Although hammams in certain communities are still widely used by locals, many of them have been subsumed by vibrant tourist economies that out "Moroccan Turkish Baths" as part of an authentic tourist experience in the country.
Hotels also have begun creating their own hammam experience for customers like the Four Seasons Marrakech, the Fairmont Royal Palm, Hôtel & Ryads Barrière Le Naoura. We also propose properties for sale and rental in these beautiful Resorts check out our website: www.marrakechsunset.com if you are looking for a riad for sale Marrakech, apartments for sale in Marrakech, villas to rent marrakech or even villas for sale Marrakech, we will be pleased to assist.
Also when it comes to finding the right spot you might find yourself spoiled for choice:
-Perfectly situated between the city's ancient medina and the cosmopolitan neighbourhoods of the Ville Nouvelle, Four Seasons Resort Marrakech welcomes you with a blissful retreat – 16 hectares (40 acres) filled with Moorish gardens and refreshing pools. Here, traditional values and contemporary comforts unite. Experience true luxury, relaxation and lose yourself in the magic of their Spa features steamy hammams, plunge pools, indoor-outdoor treatment rooms and traditional Moroccan spa rituals.
-The elegant Royal Mansour Marrakech Spa, demonstrates the intricacies of Moroccan craftsmanship and architecture, creating an ambience of majesty and mystery. Beginning with a reception in the striking white iron atrium, reminiscent of a cool bird cage, guests are offered customised treatments to improve health and well-being. With its marble floors, languid pools and streams of light flowing through the arches, the hammam is a sanctuary for the body and mind to enjoy.
-The Mamounia spa sits within a decadent space of 27,000 square feet. Combining clean modern lines with traditional Moroccan features and accents, the Mamounia is a presence welcoming you to experience wellness treatments at its most sophisticated. while its traditional sloping arches and marble fittings is a luxurious haven.
Moroccan Hammam always consists of the following basic rooms:
- Dry hot room to start your journey and get accustom to the heat.
-Hot steamy room to sweat away all body's impurity.
- Bathing room to get the traditional hammam treatment.
-Resting room to have mint tea and relax.
-Optional massage room to really relieve you of all remaining stress and some have a beauty room.
The ritual consists of a body, and mind cleansing made by a trained staff. The ritual starts by applying a thin layer of black soap all over your body then after resting for about 5 to 10 minutes it's followed by rinsing with lots of water. The personnel will scrape all your dead skin from your body with a kessa glove. You will be amazed by the resulting dead skin left on the tile after the treatment.
Right after there is a purifying rhassoul mask that will absorb all impurities from your skin while mineralizing the epiderm with essential mineral elements.
In the most luxurious hammam they will end the session by rehydrating your skin with pure argan oil.
Most of the modern hammam offer flip-flop, bathrobe and disposable underwear, however if you like you can bring your own to have a great experience.
Talking in a spa is usually a no no, but in hammam it is welcome, but just chat in a low pitch voice to maintain the space relatively quiet.
When the session is over you can relax in the tea room and enjoy Moroccan mint tea while enjoying sandalwood aromatherapy. If you really want to have the summum experience, try a royal massage which consists of a massage done with argan oil to completely relax while rehydrating your skin after the washing treatment.
Visiting a traditional Moroccan hammam for the first time can be a confusing experience. Some might even find it embarrassing to be so naked in such a public space. However, it will definitely ease your stress while you soak in all the health benefits. Give it a try. It's definitely not something you will ever do in most countries.