What should I buy in Marrakech Medina?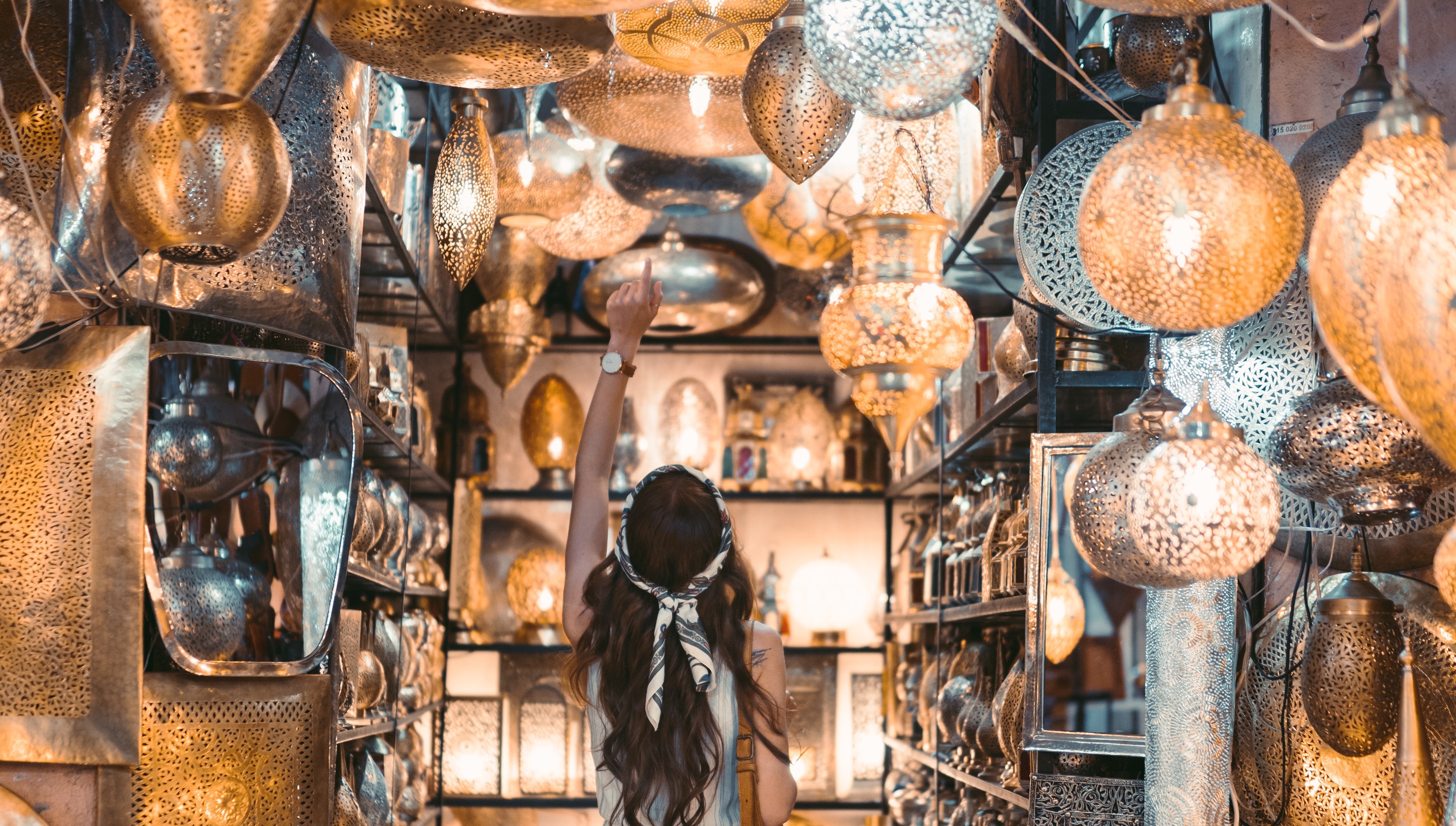 Morocco is a fascinating and exotic destination with many different reasons to visit. The kingdom is famous for its host of magnificent buildings, steeped in a fine blend of Andalusian, Berber-Arab and French influences; and hosts one of the luxurious properties, from Marrakech villas to rent to villa in Marrakech with pool for sale and in between you will definitely find your architectural gem you simply must visit. Checkout our website and take a look at our properties selection for sale and rental : https://www.marrakechsunset.com/our-properties/
With a rich and ancient artisan tradition, the temptation of unbridled shopping is everywhere. While you wander through the medina of Marrakesh, you will have the opportunity to take in the stunning views, and learn more about the lives of the locals and their traditional goodies. Most of the products are either hand-made locally or made with bio products. There are a lot of things you can only find in Morocco!
It's impossible not to be distracted by the countless shops as far as the eye can see. Colorful plush rugs, hand woven blankets, leather bags of every shape and size and fragrant spices.
So before you actually buying anything, spend a day price checking. You'll find that the shops near busy main squares are generally more expensive while shops down little side alleyways are generally cheaper.
Negotiating in Morocco is expected and welcomed so be prepared to bargain with shopkeepers. You'll notice that prices are not listed on any items so you'll have to ask the store owner how much any item that you're interested in purchasing will cost. You'll also notice that the price comes down quite a bit as soon as you say no and start to walk away. They'll call after you "how much you pay?" "I give you special price!"
Ceramics
Ceramics are a highlight of any shopping experience in Morocco. The bright colors and intricate designs are a fascinating attraction of the Medina, however, there is a long history and tradition of ceramics in Morocco. Practiced for thousands of years, the art of ceramics has strong influences from Islamic and Spanish invaders.
Throughout the markets, the range of styles, colors and shapes can be overwhelming. Mostly, you will find floral and geometric patterns with fine details, deep colors and intricate designs. The objects you can find range from the very small to the very large: Moroccan cookware known as tajine, Moroccan dishware, jars, Moroccan plates, vases, platters, tiles and boxes. The choice often comes down to how much you can carry home.
Argan oil
Argan trees grow in the south region of Morocco, so it is definitely the place to buy argan oil and ensure that it is as natural as possible, made in the traditional Berber way. Moroccans use argan oil for culinary and cosmetic reasons, and although it is widely famous for its benefits on all kinds of hair, it is also extremely efficient on acne and skin in general.
Pottery
The pottery you will find in Morocco is truly magnificent, and you'll only find it here. They are hand-painted ceramics that come in all shapes and forms, colors and sizes. They are the perfect gift to give to relatives, as they sit nicely in any house as décor—just make sure to pack them carefully, as they are known to break in suitcases.
Leather Poufs
These embroidered leather cushions are a popular souvenir to buy in Morocco as they can be unstuffed and can pack down small to fit in your luggage. They are also sold in quaint boutiques in the US for about 6 times the price you'll pay here.
Spices
Spices are an essential part of the culture and local cuisine and should definitely be part of your Morocco shopping! In Marrakech, the Place of spices has many stores laden with colorful Moroccan spices. I see it as exciting as shopping for shoes!
Carpets & Rugs
Another ancient tradition of Morocco still passed on from mother to daughter in far-flung villages, is the crafting of rugs. Usually made of wool and carefully knotted or weaved by hand, Moroccan tribal rugs are everywhere and represent a very important part of the Moroccan art of living. There are many sizes and styles, often created by Berber tribes, and a rug can be a wonderful addition to a home. It could be one of your most prized Morocco souvenirs.
Babouches and djellaba
Seeing rows of Moroccan leather slippers or "babouche" is very evocative of Morocco. They also make for great photography. The Moroccan babouche slippers are the most comfortable thing. Quality Moroccan slippers should be soft and mold to your feet after just a few wears. You can also find babouche shoes with a thicker rubber sole.
And of course, you cannot leave Morocco without a djellaba, a Moroccan dress for both men and women. For women, they usually come in a variety of colors, material and patterns. Actually, the locals buy their own piece of cloth and take it to a tailor to get their djellabas custom made. Men, however, have a limited choice. As their hobbies don't usually include fashion, most of the time they buy ready-made djellabas from a shop in very neutral colors: black, olive, or grey for example.
Keep in mind that different cities carry different treasures so if you find something you love, don't move on to a new city expecting to be able to find it there. Just buy it or you'll regret it later!
Marrakech is a true microcosm of Moroccan handicraft. Soak up the colors and the culture in its souks and discover the treasures of everyday arts, the shopping scene offers both old and new. Tradition and modernity always blend harmoniously.
From the bustling alleys of the souks to the luxurious shops of Gueliz, there is something for every taste !