What should I experience in Marrakech?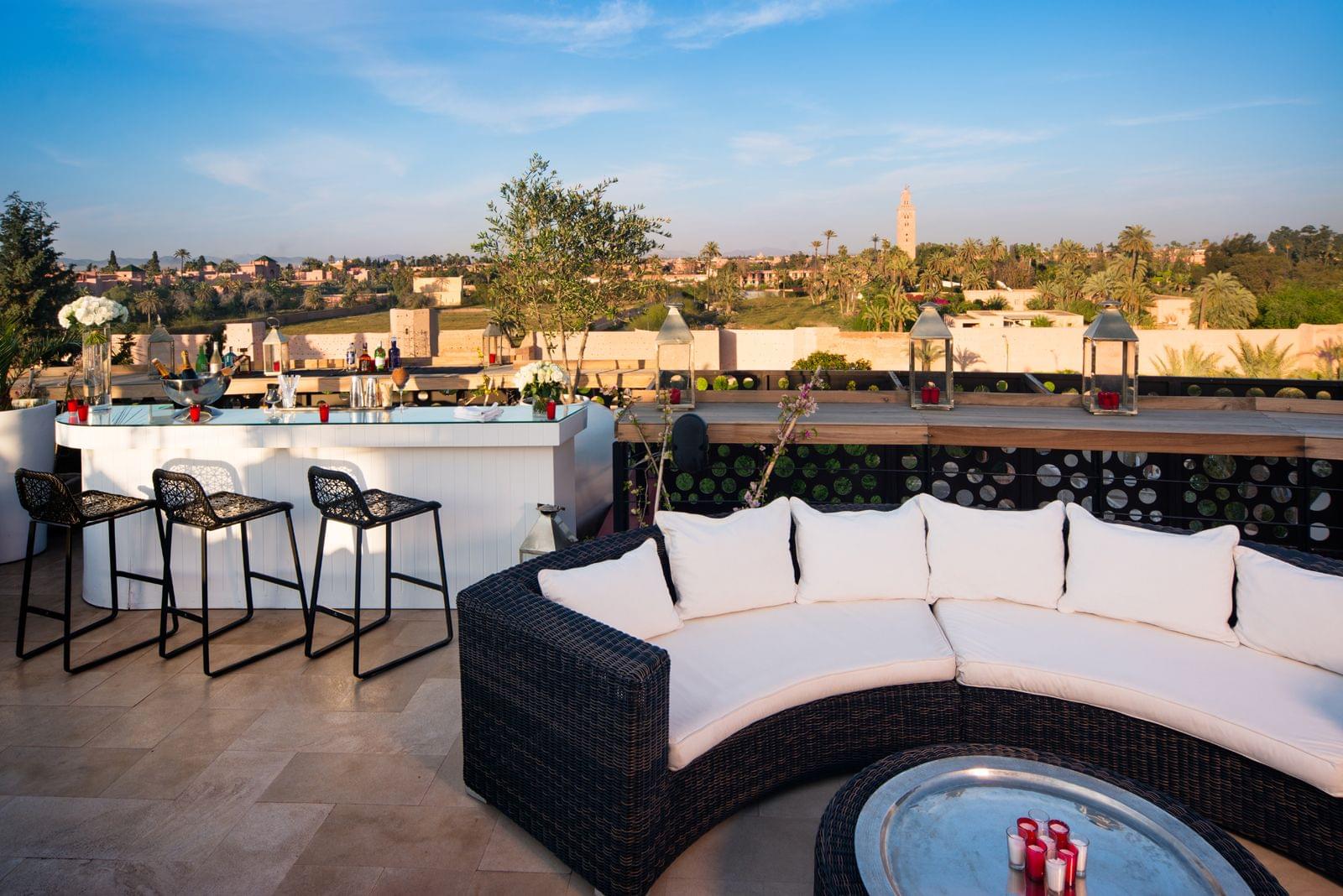 Undoubtedly, one of the planet's most iconic and enticing destinations, Marrakech hits every single ambitious note expected of it. Africa's first Capital of Culture is a whirlwind of excitement and energy, serving up a veritable conveyer belt of rooftop restaurants, courtyard mansions, riads, and innovative museums, all enhanced by the famous flavors and colors of the city's souks.
Marrakech is a Moroccan city that aims for every one of the senses and does not hold back, an 'exhausted in the best way' sort of place that enchants from sunrise to long after sunset. This isn't a city for dawdling, to say the least. Home to some of the finest museums on the continent and markets that make relocating a tantalizing prospect, Marrakech needs to be seen to be believed. Well, seen, heard, smelt, tasted and touched, that is; the best things to do in Marrakech require all of the senses.
Vacations at Marrakech are lively, energetic, and fulfilling; if you are looking to Stay in a villa for rent in Marrakech, and apartment for rent Marrakech check out our website : www.marrakechsunset.com we also suggest riad for sale marrakech, in the heart of the historic Medina, offers proximity to souks, museums, hip restaurants and cafes. Let us be your guide here: follow these must-do experiences in Marrakech and discover the best way to discover this fascinating city, like a local.
- Escape for romantic promenades & Sunshine gardens:
Take in the fresh and earthy scents of new blooms and trees at Jardin Majorelle. Candy-coloured pathways lead you across different sections, once traversed by the creative fashion designer Yves Saint Laurent- his past collections, inspiration from this land. Here, explore bamboo groves and learn to care for cacti plants. The special electric-blue studio is where French painter Jacques Majorelle once conjured life into paintings. Morocco's Berger people are displayed in grand tradition through alluring jewellery and artefacts, a must-see!
Another place to visit is Menara garden that holds a large basin that used to water olive gardens in the 12th century.
Le Jardin Secret, or The Secret Garden, sits hidden amongst a 19th-century palace complex, traditional Islamic gardens punctuated by Arabesque tiled fountains, ceramic pots filled with plants and fragrant flowers from all over the world.
-Soak Up Local Art, Fashion & Culture
Dig deeper amidst the brick red buildings of Marrakech and you can stumble upon smaller museums that are more lowkey yet hold vast treasures to understand Middle Eastern culture.
Museum Mouassine highlights life during the Saadian era. Berber artefacts and crafts can be found at Maison Tiskiwin, which showcases anthropologist Bert Flin If you're a fan of sustainable fashion, then Musée Boucherouite lends a peek into the making of recycled rags. The former governor's palace and home to the notorious Thami El Glaoui, Lord of the Atlas. Now the Musée des Confluences, it houses the archaeological collection of American Patty Birch and puts on shows exploring the intersection of eastern and western cultures. Don't miss Marrakech's best coffee shop, Bacha Coffee House, which serves more than 40 brews in the same building.
Maison de la Photographie a three-storey riad-turned-gallery housing the vintage Moroccan photography collection of Patrick Menac'h and Marrakshi Hamid Mergani. The images document the lifestyle and landscapes of Morocco between 1870 and 1950 – more than a century a later, many things remain exactly the same.
- Savour Moroccan sweets & spices :
Riad Yima Tea Room: This brightly coloured, pop-art dainty café, serving calming mint teas and cakes. It is the home and personal gallery of Hassan Hajjaj, who is also called 'Andy Warhol of Marrakech'. Find here a collection of upcycled pop art in rainbow hues, furniture, art objects and photographs.
Terrace des epices: Head over for a high tea after a long day of sightseeing. From almond biscuits, shortbreads to subtle mint tea, you can even try the iconic Tanjia Marrakechia (meat dish) that must be prepared 5 hours in advance in special earthen jars under the hot ashes of a wood-fired oven.
Gueliz district, filed with modern new restaurant is a romantic spot, perfect for enjoying a glass of wine while admiring the bustle of the city.
Once you've experienced all of this, no visit to Marrakesh would be complete without a trip to Jemaa el-Fna square, Marrakech's biggest attractions and is a Unesco world heritage site. Expect snake charmers, street entertainers and over-enthusiastic henna artists at every turn. Locals and tourists descend on the Jemaa every night, drawn by the ceaseless hoopla and halqa (street theatre).
-Get scrubbed in a Hammam:
Most Moroccans attend hammam (public steam bath) every week to cleanse the skin and purify the mind before prayer. As one of the 5 traditional elements in every neighbourhood alongside the mosque, school, bakery and fountain, the hammam is central to cultural and religious life in Morocco. Visiting is not only an invigorating thing to do in Marrakech but a great way to dip into Moroccan culture. However, experiences can differ greatly depending on the type of hammam you visit.
- View the City from a Horse and Carriage Ride
You might think that taking a horse and carriage ride around Marrakech is a very touristy thing to do. And yes, it is touristy, but it is very fun and a great way to see the city without having to walk. If you are traveling with kids, this is a must. The horse and carriages are easy to find; there will be a line by the main square and you'll have to bargain with your driver to try to get the best price possible. Sit back and enjoy the ride!
Whichever of these you end up choosing to do, we hope your time in Marrakech is fantastic!