Why invest in a Riad in Marrakech?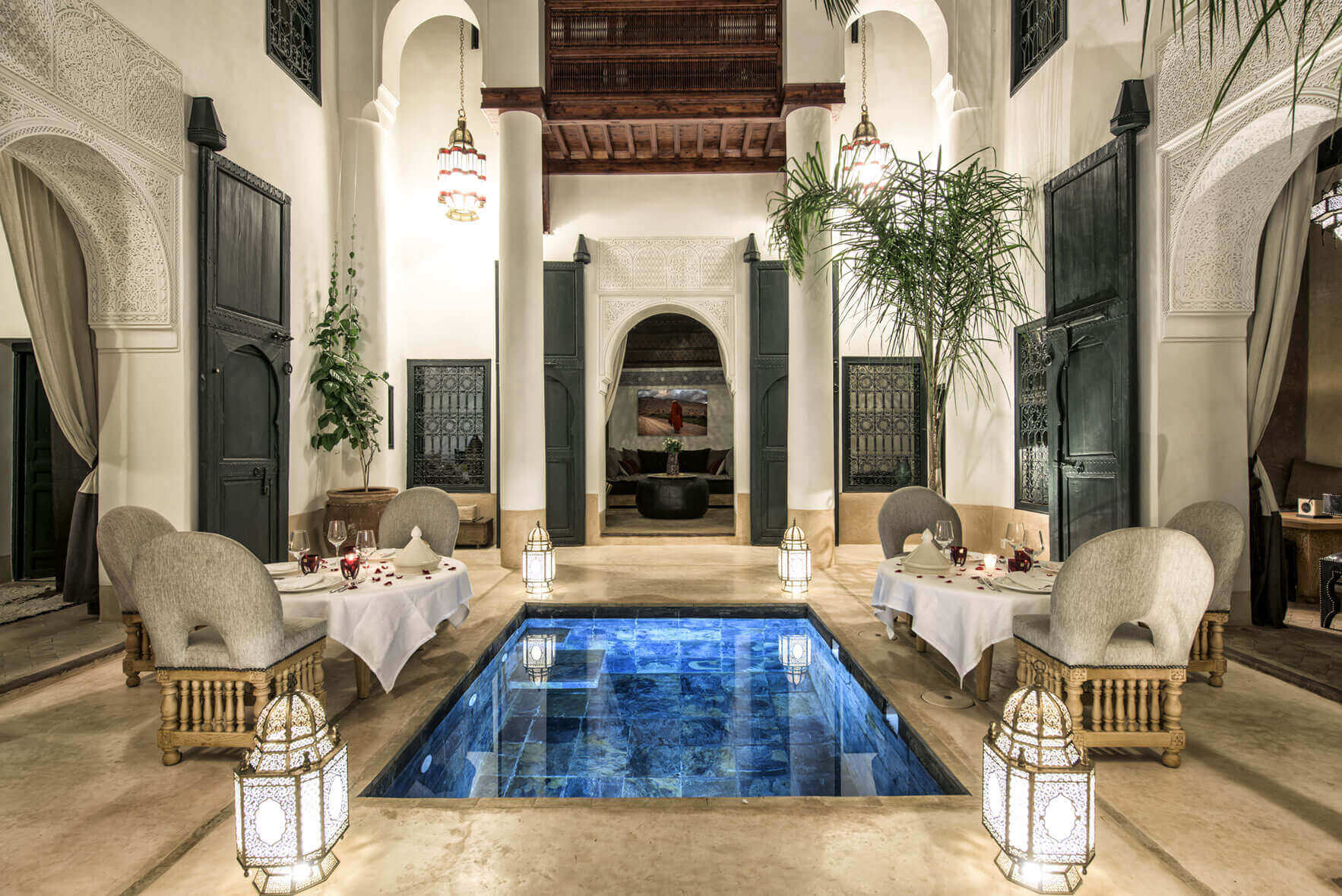 Marrakech has become a flagship destination for Western tourists for reasons of geographical or linguistic proximity, for the sun and for the change of scenery, for security, for the creativity of the crafts and the «handmade» at the top of the trends, for delicious gastronomy and partying.
For outdoor activities: golf, polo, horse riding, camel riding, hiking, waky, quad, motorcycle… for unforgettable private events (weddings, birthdays, etc.), or professional and political events (incentive, coaching, sports competitions, conferences, summits….
For its festivals (Marrakech du Rire or Festival International du Film Marrakech for its international competitions (WTCR and Formula E at the Marrakech Grand Prix, Polo: Marrakech Polo Patrons Tour, tennis with the only ATP event of the African continent, Judo and a world competition since 2017, the Nomads Run with already 8 editions and for partners the most prestigious hotels of Marrakech: La Mamounia, Royal Mansour, Fairmont Royal Palm, Four Seasons Marrakech Resort, check out our properties for sale and rental in some of these beautiful Resorts: www.marrakechsunset.com Also with a departure of the unusual and rocky desert of the site of the Agafay Desert, 30 minutes from Marrakech.
Marrakech attracts foreigners from all over the world, and has a chic, luxury trendy and discreet tourism.
Starting the early 2000s: the Marrakech riads become a «must have», these charming old buildings, hidden at the turn of the streets, organized around their patio, these blue sky squares, in the heart of the anthill of the Medina. So quiet and soothing. They negotiate for nothing, the cost of renovations is reasonable and the result is the culmination of a dream.
Prices are booming up to 30% per year from 2000 driven by an upward trend in real estate in Europe and the United States. Moroccans, then foreigners, sell their riads, charming houses and guest rooms and receive comfortable gains.
Starting the 2018, the buyers of properties of the medina multiply: small traditional houses to renovate, houses of charm 0 work to be foreseen, riads and guest rooms of luxury: everything is sold again, from the most traditional to the most contemporary.
Late 2018 and early 2019 the trend is confirmed and reinforced. A new boom is here: buyers come back, from all over the world, with every type of budget: the heart of the market from 100,000 to 260,000 euros, but also the biggest investors are targeting guest houses around 8 rooms around 1,000,000 euros.
Clients are confident, motivated, enthusiastic and happy to find their new home. You have the choice between many areas are on the market. The market is hyper qualitative and that means tax optimization.
That's a good thing, because Morocco has all kinds of economic benefits. To begin with, there is no wealth tax so you will not pay any if you are a Moroccan tax resident or if the tax treaty between Morocco and your country is aimed at the IFI. This is not the case in France. Its investment policy is particularly interesting, especially in the case of retirement, since it allows a large number of exemptions and tax reductions, under certain conditions.
Examples include a 2.5% reduction in registration fees after the purchase of an immovable and a 50% reduction in corporation tax during the first 5 years of the fiscal year, or the exemption of the tax on real estate profits and capital gains. Similarly, in Morocco, you do not pay inheritance tax.
And, we must not forget that this Moroccan city has many free trade agreements with world economic powers, in particular France and African countries. This further strengthens the attractiveness of its market for foreign investors.
The renovated riads in Marrakech have been a huge success for a few years and for good reason, these are particularly interesting investments. Indeed, these residences are the mode of accommodation par excellence privileged by tourists of the whole fashion. Thus, if one does not wish to live year-round in Marrakech, a renovated riad can quite act as a secondary residence while being rented seasonally to tourists passing by when one does not wish to go there himself. If the option of the secondary residence is not retained, it is quite possible to transform a renovated riad into a charming guest room.
Indeed, with the rental management you can delegate the management of this guest house to professionals who will take charge of everything, from the interview to the reservations, by way of the recruitment and the supervision of the staff necessary to the reception of the numerous customers who wish to stay in a place of residence typically Moroccan.
Whatever the reason for your acquisition, however, it is necessary to surround oneself well in order to achieve it serenely, so it is better to go to professionals of the real estate market to find and choose your riad, Marrakech Sunset Properties is a professional real estate agency based in London and Marrakech with over 12 years' experience in the field. We are proud team known for innovation, commitment, unique skills and expertise ranging from helping first time homebuyers; to second homes and/or vacation homes, relocation, investment properties and much more. Also known for our top-rated client services, and positive experiences.
Finally you will have understood, investing in a riad in Marrakech presents rather convincing benefits. Quality clientele, tax benefits, stable environment, there is nothing to hesitate about. So, will you seize this opportunity?