Can you get married in Marrakech?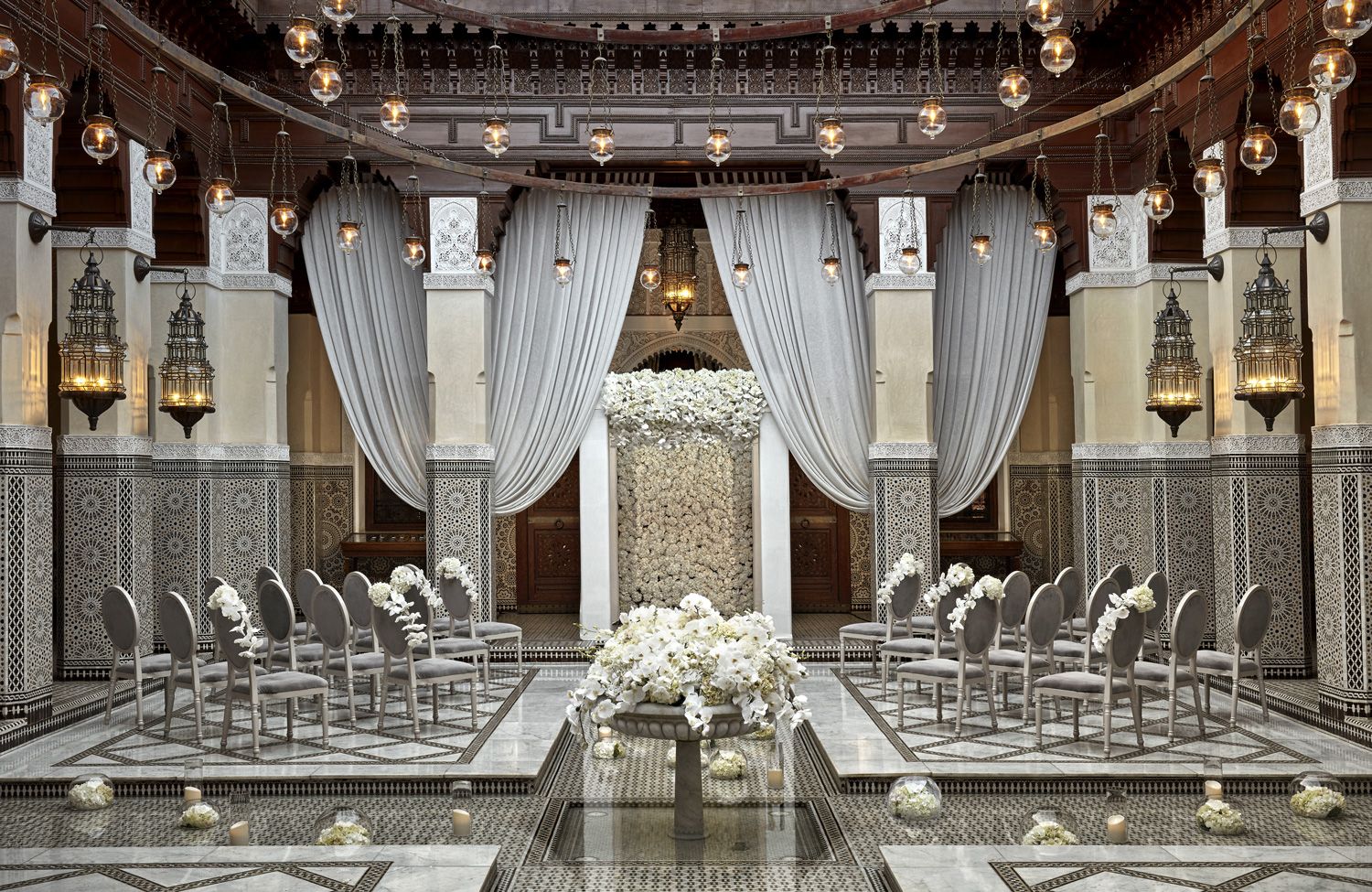 Marrakech is located less than two hours from the snow-capped Atlas Mountains which offer a breathtaking panorama. Known as the Red City for its flamboyant colours, it is an open book of unique and traditional places of mosques, palaces, medina, minarets, riads, gardens and bustling souks that awaken all your senses. The brightness of Marrakech city will delight wedding photographers with a bohemian and romantic spirit. On the other hand, for couples with an adventurous spirit, this city will satisfy your desires with its originality and sensations.
Marrakech will be a perfect wedding destination to celebrate your special day. In Marrakech every wedding is elegant, original, unique, exceptional, unforgettable and full of emotions.
Many couples wish to live and give their guests a magical experience by inviting them to a destination wedding. Due to the geographic distance, organizing your Marrakech wedding is often more difficult than expected. This is why visiting the city beforehand can be a good way to get to know the city, to feel the energy that emerges and to help you find the inspiration to fulfil all your desires for this union. This city in North Africa is also very popular for its weather. Indeed, while it is impossible to control the weather on your wedding day, getting married in Marrakech is the perfect way to ensure beautiful weather. So this is the ideal combination for you to have successful romantic photo memories.
It is not always easy to budget for your wedding, especially when it is a destination wedding project. The keys is to manage your budget properly and in order to stay organized and track your expenses, we advise you to create an excel sheet where you will list all your expenses, starting from where you will stay. Marrakech Sunset Properties offers a selection of properties for rental as per your convenient from marrakech villas to rent or apartments for rent in Marrakech check out long term rental properties on : https://www.marrakechsunset.com/long-term-rentals/ or our holiday rental for short terms stays: https://www.marrakechsunset.com/holiday-rentals/. Our villas Marrakech and apartments in Marrakech all perfectly located. You have a wide choice of budget and location from the city center to the golf courses or the resorts private residential with the breath taking venues to host your dream wedding.
Joining with your loved ones is one of the key points to share this day of emotions. Making a selection from your friends and family is not easy when you are making a guest list. Everyone wants to experience this special day with as many loved ones as possible by their side. The number of guests invited is decisive. Indeed, this criterion will have an impact on the budget of your wedding as well as on the choice of your Marrakech wedding venues.
Marrakech is definitely one of the top wedding destinations, the city offers a dream setting and landscape and exceptional reception places. Marrakech and its surroundings have a wide choice of estates, traditional houses and riads, private villas all in a green, luxurious and elegant scenery, that suit your style, wedding theme, and budget.
When you want to get married in Marrakech, having a network of reliable and trustworthy local suppliers is fundamental. By using the services of a boutique wedding agency, you have a definite advantage in setting up appointments with suppliers and making your requests understood. The Marrakech wedding planning team speaks Arabic, the local language of Morocco (Darija). They will be used to working with local vendors and are very familiar with their way of work. They can provide you with a list of local vendors, taking into consideration (number of guests, geographic criteria, budget, etc.) so as not to waste time and to select for you suppliers in accordance with your request.
Marrakech guarantee you a chic and elegant weddings in Morocco while keeping an authentic and natural spirit. However we advise you to be organized and as effective as possible. To do this, think about establishing a list of the many suppliers to contact: caterer, florist, photographer, videographer, make-up & hair artist, décor rental company, host of the dance party, ceremony officiant, entertainer, Negafa (the person who is responsible for bridal Moroccan attires during the wedding ceremony). As well as a professional logistics team, a technical team for installations, lights and sound is essential and contributes to the success of this day.
Here you will also take advantage of a wide selection of decorations for rent: lanterns, candle holders, candlesticks, Moroccan rugs, Napoleon chairs, medallion chairs, Emmanuelle chairs, candle holders, Moroccan lounges, photobooths, vases, tablecloths... You can also plan to add supplier offering typical Moroccan workshops such as Henna tattooing or traditional cooking classes.
Doing this in advance will allow you to make an initial selection according to their prices and availability. It is also essential to think about the type of marriage desired. Marrakech can offer a traditional, western wedding or a combination of both. Obviously, your choice will have an impact on the selection of your vendors.
Preparing for marriage abroad is long and tedious, especially when you have never been to the country or city where you want to say 'I Do'. It is therefore essential to do this in advance and send your destination wedding save the dates to your guests. Having a Marrakech wedding retro planning can help you stay organized and efficient. The red city has so much to offer that you will be nothing but overwhelmed!
So are you committed and ready to prepare for your dream wedding in Marrakech?
With all the dreamy venues, sumptuous spaces, a sophisticated service, sublime tableware and glamorous Arabian nights, be prepared to take a roller-coaster of emotions.